Features
Check out Sangha's current features and what's planned for the future.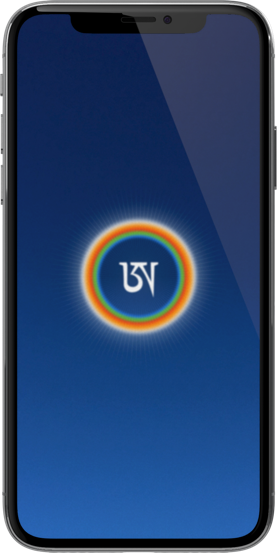 Awareness
Stay present & aware
Unique tool reminding us of our Instant Presence, design especially for practitioners of the Dzogchen Community
Ganapuja reminder
Notifications about planed and canceled events
INSTANT PRESENCE REMINDER
This function is very appreciated and used a lot in Sangha App. It is a tool designed especially for practitioners of the Dzogchen Community. It will remind not just to be present with the gong like other reminders, but if you have the circumstance – you can also do essential Ati Guruyoga practice with Rinpoche's voice.
How does it work
· Click on the "Reminder" icon with gong in the blue field down in the right corner.
· Click if you want to turn on Instant presence reminder.
· Choose the frequency – how often you wish to be reminded.
· Choose the time when you don't wish to be disturbed. (Please be aware the hours you choose there are to specify when the reminder will be OFF – not when it will work:)
According to how you set it – you will receive Reminder notifications, with gong sound (if the sound in your smartphone is turned on). Notification will contain an icon of a white A in the thigle and text which reminds you to be present and aware of your true nature – whatever you do, wherever you are.
If you want to and you have the circumstance (that nobody disturbs you etc.) – you can do Ati Guruyoga with Rinpoche's voice. Open the notification and when you are ready – press the Play button under the white A visualization. You can try how it works in the Preview of Reminder section.
NOTIFICATIONS
You can follow the event you are interested in going to in the same way. Click the "Go" button after opening the event. The event will stay automatically displayed on your home screen. You will get a notification reminder that the event is coming soon or if it would be changed or canceled;)
Sangha App has also another very practical function – it reminds you about Ganapujas. No practitioners want to miss them, right? This app will send you a notification reminding you it is a Ganapuja day and which kind with info if the moon is waning or waxing.
Remember, for receiving any notification, YOU NEED TO HAVE THEM ALLOWED in your app's settings – in the Profile section.
Vajra Family
Stay in direct touch
Find contacts to practitioners of the Community who are using the Sangha app
Explore local Community events when traveling
Create an occasion to practice together
Relax and spend time together
PROFILE
To enter Profile – click on your thigle pic in top right corner of the Home screen:
· Activity section – you will see events, practitioners and places you are connected with.
· About section – you can view & edit your details and photo.
· Setting section – you can set if you wish to receive notifications and allow to connect with your location for displaying places and events relevant for you.
VAJRA FAMILY
Many practitioners are using Sangha and it is still growing. You can contact the practitioners you like by looking at the info and details in her/his profile section. You can follow the practitioners to be in closer touch and inspired with their events and friends.
The process of CONNECTION between practitioners is very similar to following a place. To find some practitioner – scroll the list in the Vajra family section (the complete list in Show more). If you cannot find it – write the practitioner's name into the Search bar on the top of the home screen. Open the profile of the practitioner and click the "Follow" button if you are interested. That way you will be able to see which people and events are followed by this person. If that practitioner follows you too – it will create a "Friends"status between the two of you.
If you don't find your friend in the app – this person probably didn't install the Sangha App yet. Don't worry! There is possibility to invite them into the app ;)
INVITATION
You can invite another practitioner to download the app – by clicking the "Invite" icon with the Dharma wheel down in the blue field. And then you share the link via your chosen method of communication.
When this practitioner has downloaded the app – and YOU PERSONALLY KNOW THIS PERSON RECEIVED THE TRANSMISSION from Chögyal Namkhai Norbu – you can share with this practitioner an invitation code to activate the app. To keep this process is a very important aspect of this application as it is a safe and secure space for sharing info especially for practitioners who received Transmission from our Master.
Calendar
Stay active with all the info
All public and restricted events organized by Dzogchen Community and its practitioners
Overview of all events, filtered by region
Follow places and events you are interested in
Add events – useful for gakyils and instructors as well as individuals who want to practice together or meetup
EVENTS & PLACES
The most visible function is overview of events with their details (mostly Community retreats by now). You can find what's happening everywhere around the world in one simple app. It displays those places which are close to you and which you are interested in.
How does it work
When you open the app you will see an overview of interesting events in your area. If you will travel to another place – it will immediately display the events happening there. You do not need to set up anything – it is automatic WHEN YOU HAVE TURNED ON YOUR LOCATION in the settings of your Profile section.
If you're interested in events of some location without being physically there – just type the name of the place into search bar, select it and you will see all events happening there. If you want to have continuous info from some place – CLICK THE "FOLLOW" BUTTON under the details of the place. That way it will display all events from your followed place automatically on your home screen. (For example, if you plan to travel for some retreat to Dzamling Gar, you can click 'Follow' this Gar and you will see all the events happening there.) There's no limit to how many places you are able to follow. You can be in touch with all the places from where you want to have info.
New Features of the Sangha App coming soon
The development of the application accomplished the basic stage. Now, we are working to complete the plan of other functions to produce a unique tool for all different needs of communication & collaboration for practitioners:
Direct chat channel between the practitioners
Functions to exchange photos and files safely
Web version for adding events to the calendar to make it more convenient for gakyils and trustful users
Forum for discussion
Video calls between more practitioners at once
Collaboration workspace - a place to offer, support, and find possibilities for Fundrasings, Karmayoga, Jobs, Support with accomodation, transport etc.
Sangha app will be available in 5 languages: English, Russian, Italian, Czech, Spanish (if there will be interest we can manage to translate it into other languages as well)