Profile
To enter Profile – click on your thigle pic in top right corner of the Home screen: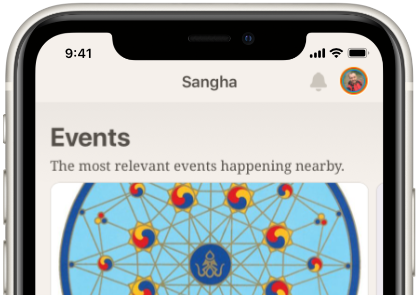 Activity section – you will see events, practitioners and places you are connected with.
About section – you can view & edit your details and photo.
Setting section – you can set if you wish to receive notifications and allow to connect with your location for displaying places and events relevant for you.
---
Vajra family
Many practitioners are using Sangha and it is still growing. You can contact the practitioners you like by looking at the info and details in her/his profile section. You can follow the practitioners to be in closer touch and inspired with their events and friends.
Messages
Where to find the chat and how to use it:
In the Sangha app's Home screen – scroll down to the Vajra family section – click on profile you want to chat with – down under the opened profile, you will see Messages section – click Write message – and in open window write the message and click Send. You can also add the attachments – just click the corresponding icon, wait a moment to upload it and send 😉
Connection between practitioners
The process of connection between practitioners is very similar to following a place: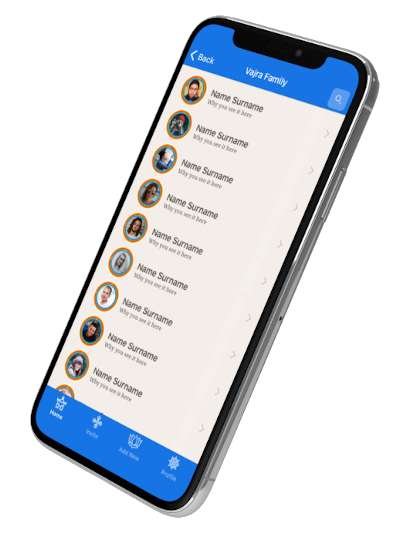 To find some practitioner – scroll the list in the Vajra family section (the complete list in Show more).
If you cannot find it – write the practitioner's name into the Search bar on the top of the home screen. Open the profile of the practitioner and click the "Follow" button if you are interested. That way you will be able to see which people and events are followed by this person.
If that practitioner follows you too – it will create a "Friends" status between the two of you.
If you don't find your friend in the app – this person probably didn't install the Sangha App yet. Don't worry! There is possibility to invite them into the app 😉
---
Invitation
You can invite another practitioner to download the app:
by clicking the "Invite" icon with the Dharma wheel down in the blue field
and then you share the link via your chosen method of communication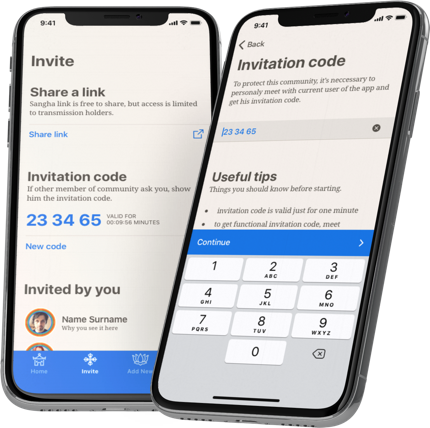 When this practitioner has downloaded the app – and YOU PERSONALLY KNOW THIS PERSON RECEIVED THE TRANSMISSION from Chögyal Namkhai Norbu – you can share with this practitioner an invitation code to activate the app.
To keep this process is a very important aspect of this application as it is a safe and secure space for sharing info especially for practitioners who received Transmission from our Master.