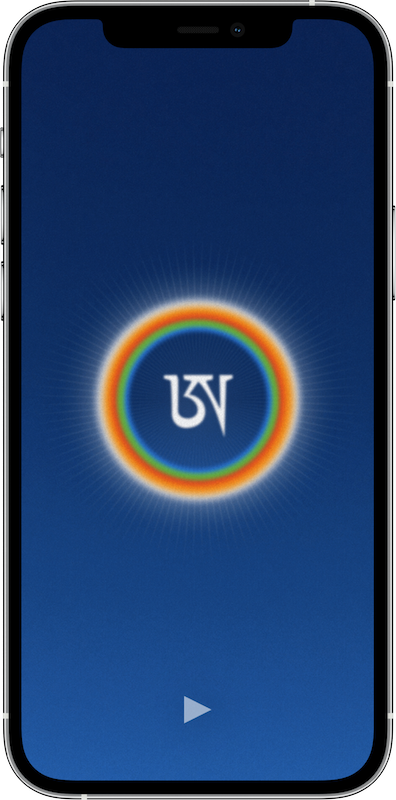 Awareness
Stay present & aware
Unique tool reminding us of our Instant Presence, designed especially for practitioners of the Dzogchen Community.
Notifications about planed and canceled events
---
Vajra Family
Stay in direct touch
Private message other practitioners through the app, share links, attachments, etc.
Find contacts to practitioners of the Community who are using the Sangha app.
Explore local Community events when traveling.
Create an occasion to practice together.
Relax and spend time together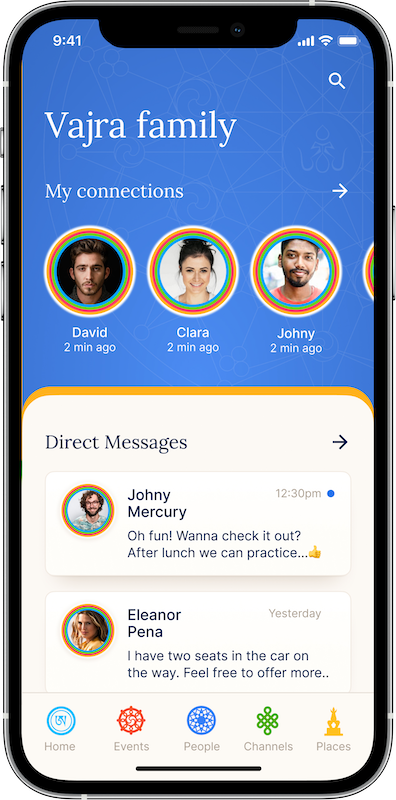 ---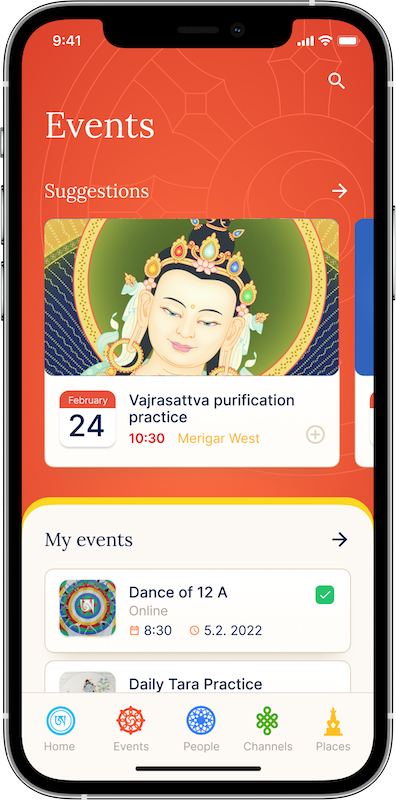 Events
Stay active with all the info
All public and restricted events organized by Dzogchen Community and its practitioners
Overview of all events, filtered by region
Follow places and events you are interested in
Add events – useful for gakyils and instructors as well as individuals who want to practice together or meetup.
Connect for discussion under every Event & Place. There is "Together" space under every published event and gar, ling or venue. You can add your posts, comments, questions and attachments to this space.
Organizers of the event and also other practitioners can reply to each other in this space and everybody can see it. This communication tool makes our collaboration more direct and effective.
---
Channels
Stay connected
Space for group chats to create or follow any topic
Channels can be OPEN to all practitioners or RESTRICTED (by invitation only)
Get inspiration from the last active Channels on the Home screen
Choose from the suggestions – invite to, unfollow or mute any channel
Ask, advise, share, inspire & discuss instantly with the whole Vajra family worldwide
Everything unified in one safe dedicated space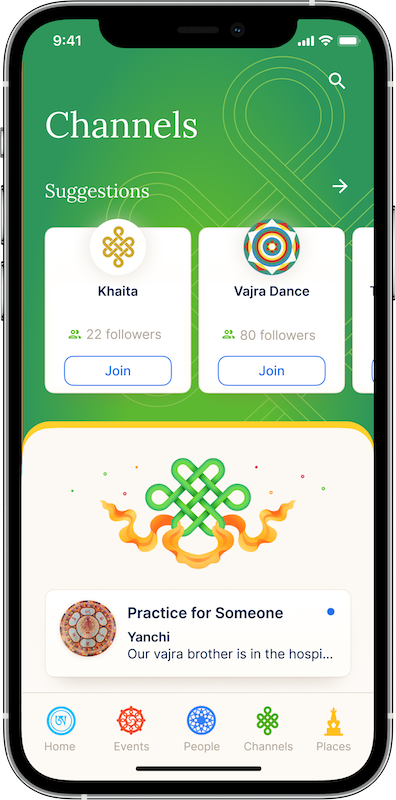 You can use Channels with other features also on the web, even comfortably from your PC.
Channels are an open platform for the practitioners. They are welcome to create and follow any topics they are interested, connected with the Teaching and the Community, with the intention of support and evolution. Activity of the practitioners is based on personal responsibility.